Buyer Experience: Center Brunswick Volunteer Fire Company
Buying a new vehicle or fleet can be a daunting task, especially when looking for a new manufacturer. At Marion Body Works, we value the relationships we build with customers and put forth effort to create flow in the purchasing process from start to finish. Most recently, the Volunteer Fire Department of Center Brunswick, located in Troy, New York, picked up their second Marion Body apparatus; a pumper.
"The Volunteer Fire Company of Center Brunswick proudly purchased and received our second Marion Body Works Pumper in July of 2018. Our first purchase was in 2013 with a 1500 gallon Tanker and we were so satisfied with the product that five years later we have purchased our s
econd piece of apparatus from Marion.
From day one Marion has always had the "Yes, we can do that" ment
ality, no matter the request from our truck committee. From the beginning to the end, they always pay attention to detail and truly care that at you get the final product you're looking for. Throughout the process they provide excellent drawings, and point by point specifications that you can go over with your dealer and Marion representative to ensure it is exactly what you want.
If your department has the opportunity to visit Marion Body Works' plant for your pre-construction meetings, I highly recommend you take advantage of it. They are very accommodating and the facility is absolutely state of the art. You're able to sit with the Marion rep to go line by line through your designs and have open discussion with all questions being answered almost instantly. If they can't answer a question or concern, the person that is actually doing the work on your apparatus can come in to speak with you and answer it.
The final inspection trip is the most important to our department. When you can sit in a room and go over drawings and specifications it's a bonus in itself, but being able to open a garage bay door, walk out and actually SEE the apparatus and compare it to what's on paper is unparalleled!
The greatest asset that Marion Body Woks has, in our opinion, is their people. They have been amazing to work with and you can truly tell they care that you get what you want. In a day and age where purchasing a piece of apparatus is difficult to present to your membership, board of directors and of course your tax payers, take my word for it that Marion Body Works will NOT disappoint. We are extremely satisfied with our recent purchases and highly recommend them to everyone in the market for any piece of apparatus." - Mike Drinkwine, Fire Chief
(Pictured below: Center Brunswick Volunteer Fire committee and Marion Body Works team)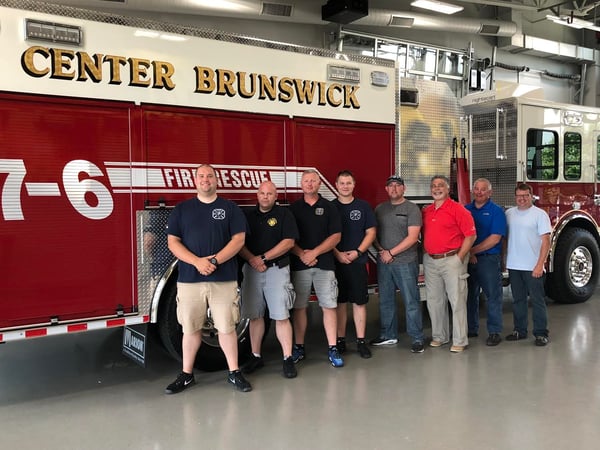 ---
See why Marion is Different.
Load our custom trucks with features you need. Let us fabricate your dream pumper, tanker, rescue or Aerial from start to finish based on a deep understanding of your needs. With Sharp attention to detail and quality construction, our safe, high-performance trucks are built to last.
---
Thanks for checking out our blog! Get the latest updates and news on our Facebook page.
---