---
Get to Know Marion
Marion builds custom fire apparatus in the Northern Wisconsin town whose name we share. We are a 112 year-old family owned and operated business and count, in our extended family, a dedicated group of 270+ employees including: engineers, electricians, welders, fabricators, painters, service, sales and support professionals. The Marion family also includes every Department that we've ever built a truck for, and every firefighter who rides to the scene in it, and it includes every community that we help to protect.
A Marion truck is custom built from the ground up, from the highest quality components to your exact specifications. We have an open communication philosophy that runs through our entire manufacturing process, from the initial design consultations to your final inspections in our climate controlled service bays. We do not push you to a cookie cutter design. You want a 2000 GPM pump? We'll install it the brand you want. Need a 1,000 gallon capacity tank, we'll spec the chassis and body to accommodate it. Need a low hose bed, or extra storage for lifting bags and cribbing? Our engineers will design an answer. We will work with you to design and build the best rescue, pumper, tanker, aerial or hybrid rescue/pumper to serve your community.
We build trucks that are designed to last using extruded aluminum with precise laser cut edges and welded seams. We incorporate advanced manufacturing techniques with the latest engineering software and a tradition of quality stretching back to 1905. We build relationships by listening to you, our customer, and delivering on our promises.
What can we build for you?
---
Media
See why Marion is Different.
Load our custom trucks with features you need. Let us fabricate your dream pumper, tanker, rescue or Aerial from start to finish based on a deep understanding of your needs. With Sharp attention to detail and quality construction, our safe, high-performance trucks are built to last.
---
RECENT NEWS:
Marion awarded contract to build 15 pumpers for Costa Rica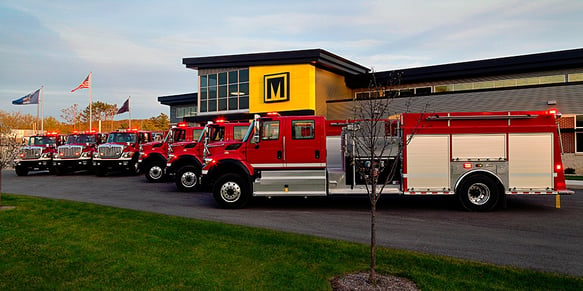 Bomberos Costa Rica will take delivery of 15 identical Marion pumpers in 2017. The national effort to modernize and standardize the Costa Rican Fire Service will simplify training, maintenance and personnel scheduling. Built on International 4-door chassis, the pumpers feature 1500 GPM Waterous pumps with 1000 gallon water tanks and 100 Gallon Class A Foam tanks. The truck bodies are constructed from laser cut, heavy gauge extruded aluminum, with fully welded seams. Marion will build and deliver the pumpers in multi-unit groups to expedite manufacturing and reduce shipping costs.
International 4-door Chassis
Thanks for checking out our blog! Get the latest updates and news on our Facebook page.
---