Why Choose a Marion?
The old saying, "You are what you eat" is easily understood by nutritionalists, athletes and firefighters across the land. Simply put, to build a better body, you need to use better building blocks. Nowhere is this concept more prevalent than inside a Marion Fire Truck. Our Engineering team has taken the concept to heart, incorporating military-spec grade aluminum extrusions into every rig we build.
Why military-spec grade Aluminum? It has a tensile strength that is 91% stronger than 3003 sheet and 43% stronger than 5052 sheet. It is the proverbial "better building block" that we use as our foundation. Our engineers incorporate the superior properties of our aluminum stock into our apparatus designs to build a body and chassis system that is strong and light weight, while maintaining its structural integrity. It is so essential to our process that we purchase more than 1 million pounds of it each year.
While other manufacturers may form, bend and weld their support columns and bracing components piece by piece, we source our virgin aluminum extrusions from America's best mills. This means that the tolerances we specify are certified on every lot with absolutely no variance. The closed-profile form of the structural extrusions provides excellent fit and finish during manufacturing and throughout the lifespan of the apparatus. They are cut to length, drilled, notched and milled on advanced CNC machinery with the tightest tolerances in the industry. Marion body panels are CNC laser cut from heavy-gauge aluminum plate stock with all secondary operations performed on our in-house equipment.
If you believe its what's on the inside that counts, count on Marion.
---
Media
See why Marion is Different.
Load our custom trucks with features you need. Let us fabricate your dream pumper, tanker, rescue or Aerial from start to finish based on a deep understanding of your needs. With Sharp attention to detail and quality construction, our safe, high-performance trucks are built to last.
---
RECENT NEWS:
Heavy Rescue going to La Crosse Fire Department in La Crosse, WI.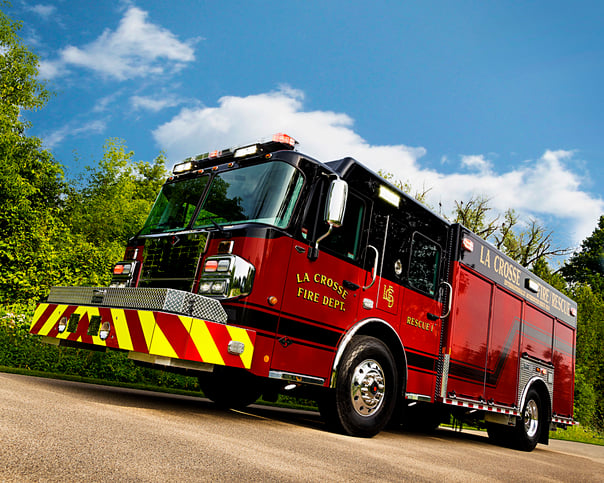 La Crosse Fire Department in La Crosse, WI. This heavy Rescue comes equipped with:
Spartan Metro Star Chassis
Engine Diesel 330 HP Cummins ISL9
GAWR Front 20,000
GAWR Rear 24,000
R-16' Non Walk-In Rescue, Heavy Duty
PTO Hot Shift, Hydraulic Generators
Thanks for checking out our blog! Get the latest updates and news on our Facebook page.
---