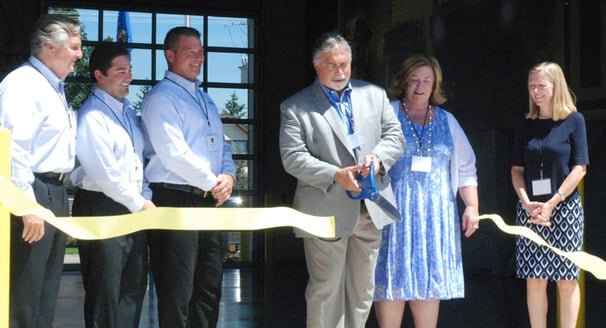 June 17, 2016
Marion Body Works cuts ribbon on new headquarters and production facility campus
MARION, Wis. – From its humble beginnings in 1905 as a blacksmith shop manufacturing milk wagons, Marion Body Works now has the facilities to match its present-day status in the custom truck manufacturing industry.
"Marion Body Works has maintained its tradition of hard work and growth over its 111-year span in this community," said Marion Body Works President and CEO Curt Ignacio. "And this new headquarters and production facility are testaments to the where we have come from, what we have persevered through, and where we are going over the next 111 years."
About 350 people attended a ceremonial ribbon cutting at the company's Ramsdell St. location Friday, June 17. Those present included local, county and state officials, as well as elected officials, featuring remarks from Wisconsin Lt. Gov. Rebecca Kleefisch and Congressman Reid Ribble.
The new corporate headquarters is more than just a building; it embodies the persona of Marion Body Works. Large format graphics and murals throughout pay tribute to the company's history, leadership, and dedicated employees. Ignacio's wife, and Marion Body Works co-owner Nancy Ignacio, and a team of Marion leaders oversaw every detail of the project.
The 19,000 square foot headquarters feature two large customer conference rooms with roll-up doors to showcase client vehicles during the production process, corporate offices, four state-of-the-art conference rooms, and the '1905 Café', an employee cafeteria featuring tables and work stations that face large windows overlooking the patio.
"Hiring is a strategic focus of Marion," said Curt Ignacio. "Our employees are not just workers, but one family made up of 274 smaller ones. And the workplace must reflect a home environment, a place our family members wish to be when away from home. The new headquarters and production facility are not just to help us maintain and grow our market-leading presence in the custom truck manufacturing industry, but to make Marion a market-leading employer in our community and throughout Northeast Wisconsin."
Upgrades to the Marion Body Works Campus also come on the production side with a 42,000 square foot expansion to the existing 183,000 square foot production and warehouse facility.
Through the hard work of its architect and construction partner, Appleton-based Consolidated Construction Co., Inc., Marion Body Works moved into the new facilities in less than nine months from the project groundbreaking in August 2015.
About Marion Body Works
Marion Body Works manufactures Fire & Emergency Apparatus, Commercial Truck Bodies, Aluminum Custom Cabs, Custom Engineered Vehicles, and Defense Products for customers across the country. Marion has been privately owned, family operated, and continuously operated in Marion since they were founded in 1905. Marion specializes in all-aluminum extrusion and has extensive experience in the unique welding and bonding techniques associated with this material. The company produces more than one million pounds of aluminum products each year. Marion Body Works' capabilities include aluminum and steel fabrication, welding, plumbing, foam insulation, hydraulics, electrical and electronic controls and painting.