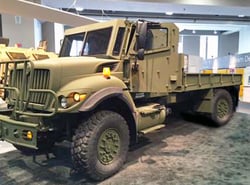 Military subcontractor, Marion Body Works, was selected by Navistar Defense to manufacture Custom Cargo Troop Carrier Bodies as part of a recently awarded $368.9 million U.S. Department of Defense (DoD) contract for Afghanistan military and police equipment. The first three truck bodies are due in November, with full ramp-up production of roughly 50 bodies per month scheduled to begin in the first part of 2016. The DoD contract ends November 30, 2019.
A certified small business of 235 employees, Marion Body Works offers diversified capabilities and the ability to simplify the overall project management process for major defense contractors like Navistar Defense. Marion Body Works has the capability to focus on long-term assignments, consistently meeting quality, competitive, and budgetary standards.
"Partnering with Navistar Defense is an honor, as is having a part in providing much-needed equipment to the Afghanistan military and police," said Curt Ignacio, Marion Body Works CEO. "A small, flexible business like ours makes it easier for everyone. We can handle larger portions of defense bids and Navistar doesn't have to manage as many small businesses throughout the life of the contract. It's a win-win."
A truck body similar to those which will be produced by Marion Body Works, mounted on a Navistar Defense General Troop Transport (GTT), was displayed at the AUSA (Association of the United States Army) show held October 12-14, 2015 in Washington, D.C.
About Marion Body Works
Marion Body Works manufactures Fire & Emergency Apparatus, Commercial Truck Bodies, Aluminum Custom Cabs, Custom Engineered Vehicles, and Defense Products for customers across the country. Marion has been privately owned, family operated, and continuously operated in Marion since they were founded in 1905. Marion specializes in all-aluminum extrusion and has extensive experience in the unique welding and bonding techniques associated with this material. The company produces more than one million pounds of aluminum products each year. Marion Body Works' capabilities include aluminum and steel fabrication, welding, plumbing, foam insulation, hydraulics, electrical and electronic controls and painting.