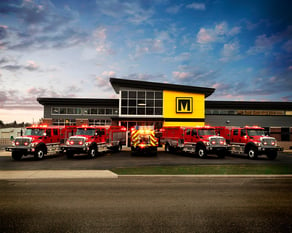 Over the years, Marion Body Works and EL Industries International have worked together to provide the Costa Rican Fire Department, Benemérito Cuerpo de Bomberos de Costa Rica, with a variety of equipment. Past orders have included pumpers, brush units, and rescue vehicles. All of these required numerous customizations to meet the specific needs of the Central American country.
When Costa Rica placed an order for eight identical pumpers in June 2020, there were a number of engineering challenges to overcome.
Custom Engine and Chassis
Costa Rica adheres to the European Emissions Standards, specifically Euro 4 and Euro 5 for these types of vehicles. These European standards are similar to U.S. EPA Emissions Standards, focusing on the reduction of harmful exhaust emissions, specifically particulate matter and oxides of nitrogen, from diesel vehicles.
While the new Costa Rican pumpers will look similar to those built for the U.S., they will feature custom engines with particulate filters that meet the requirements of Euro 4 and 5. Additionally, Costa Rica preferred a larger, higher horsepower engine for the pumpers. To meet these needs, Marion partnered with Spartan to develop a custom chassis to accommodate the larger engine. Spartan is a leading designer, manufacturer, and distributor of custom emergency response vehicles, cabs, and chassis. This order of Costa Rica pumpers will be mounted on 2021 Spartan Gladiator Chassis.
The Little Things Make a Big Difference
Costa Rica also had a number of design preferences for these pumpers, so attention to detail was crucial for this order. In addition to the custom chassis and engine, Costa Rica required strategically placed and sized storage compartments and specific lights. By including these preferences in the design, Marion was able to offer a solution that allows the Costa Rican Fire Department to operate as efficiently and safely as it can.
Pumper Features
2021 Spartan Gladiator Chassis
Cab Style MFD 10" Raised Roof
Pumper, Side-Mount, Aluminum
1500 GPM CSU Pump, Waterous
1000 Gallon Tank, Upf Polly III
100 Gallon Foam Tank – Integral Polly III, Class A
Solutions for Around the World
Marion's thorough approach to designing custom equipment has made Costa Rica a regular customer. Our ability to build exactly what our customers want has allowed us to export equipment around the world. Contact us today to learn how our solutions can get you the equipment for your unique needs.