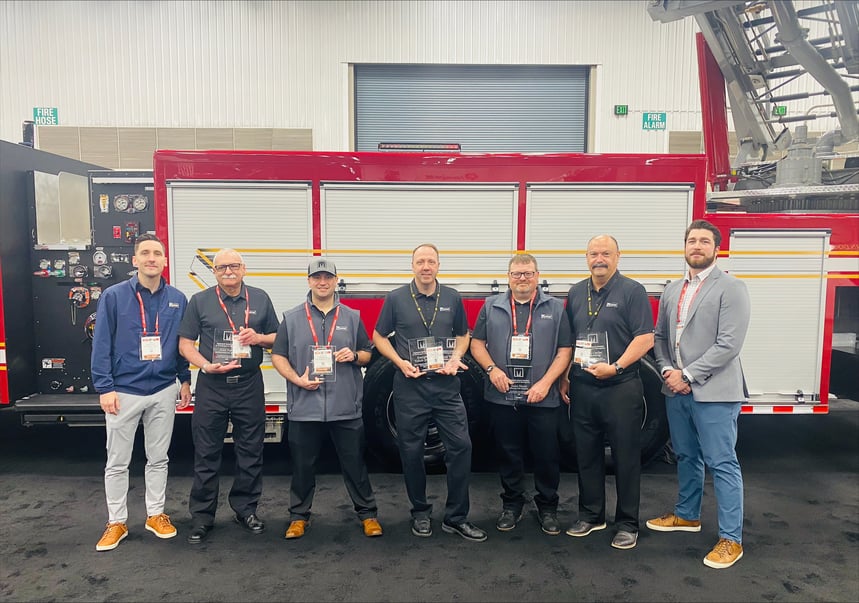 Pictured left to right: Cal Kanowitz - Director of Sales and Marketing, Alan Harris, Josh Merberg, Todd Prellwitz, Jason Harris, Tony Carlini, and Kevin Ignacio - President
Indianapolis, IN. – Marion Body Works presented awards to their top 5 fire & emergency dealers and top fire & emergency dealership while attending FDIC 2023. MBW is very proud to have these dealers as a part of our Marion Body Works team and congratulate them in their achievements! The winners were as follows:
1st place: Todd Prellwitz - Emergency Vehicle Services
2nd place: Alan Harris - Northeastern Fire Associates
3rd place: Jason Harris - Uncle Sam Fire Apparatus
4th place: Tony Carlini - TC Fire Apparatus
5th place: Josh Merberg - Neville Fleet Service
Top Dealership: Emergency Vehicle Services
While attending FDIC, Marion Body Works showcased Clintonville Fire Department's new custom aerial, as well as Southern Door Fire Department's new custom pumper! Thank you to these departments for allowing us to highlight your trucks, as well as the MBW employees who helped to prepare these trucks for the show! Check out the photo & specs listed below for these trucks!
The Clintonville Fire Department's Aerial features a 100' Quint Rear-mount Aerial, Spartan Gladiator Chassis, as well as a Cab Style MFD Flat Roof. This rig has a 500HP Cummins X12 paired with an Allison 4000 EVS Transmission, as well as a 2000 Gpm CSU Waterous Pump and 300 Gallon Upf Poly III Tank.
Southern Door Fire Department's new apparatus is a Top-Mount, Aluminum pumper on a Metro Star Chassis with a Cab Style MFD 20" Raised Roof. It is powered by a 450 HP Cummins L9 Diesel Engine, and has both a 1750 Gpm CSU Waterous Pump, as well as a 1000 Gallon Upf Poly III Tank.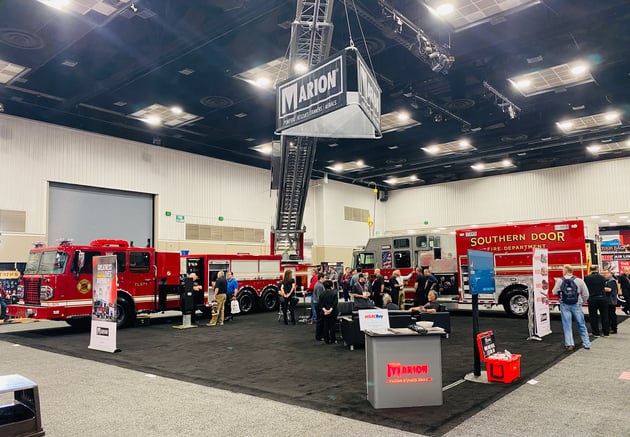 Pictured: Marion Body Work's booth at FDIC 2023
For additional information about Marion Body Works, including a list of current job openings, click here.