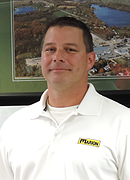 Marion Body Works, a leading manufacturer of Fire & Emergency apparatus, Commercial truck bodies, aluminum custom cabs, custom engineered vehicles, and Defense products, announced that it has hired Nathan Nick as the company's Vice President of Operations.
In this role with Marion, Nathan will be a member of the executive team and responsible for managing the areas of production, engineering, materials, and production control. He brings 24 years of practical experience in plant engineering and industrial technology to this job.
Curt Ignacio, President of Marion Body Works, says Nathan's extensive experience in the industry will enhance Marion's ability to deliver high quality equipment designed to address the specific performance needs of its customers worldwide. "Nathan has demonstrated, through his different roles in various industry types, the ability to improve operations, reduce costs while enhancing quality, and keep us at the leading edge of innovation. We're thrilled to have him on board and we know our customers will be, too," he said.
Prior to joining Marion, Nathan was the Director of Operations at EJ Metals, and held roles of increasing responsibility at relevant operations including EJ Metals, Seagrave Fire Apparatus, Pierce Manufacturing and Nordberg.
About Marion Body Works
Marion Body Works manufactures Fire & Emergency Apparatus, Commercial Truck Bodies, Aluminum Custom Cabs, Custom Engineered Vehicles, and Defense Products for customers across the country. Marion has been privately owned, family operated, and continuously operated in Marion since they were founded in 1905. Marion specializes in all aluminum products, with more experience in this area than any other U.S. manufacturer. The company's capabilities include aluminum and steel fabrication, welding, plumbing, foam insulation, hydraulics, electrical and electronic controls and painting. Learn more at http://www.marionbody.com.
This press release was originally published on PRWeb.