Fabrication
Fabrication Philosophy
Marion Body Works reinvests in state-of-the-art equipment and technologies that provide fabrication capabilities that are cutting edge and too difficult for others to implement into their standardized production lines.
Our body designs are typically more robust to add structural support. If you are looking for a body that 'works' where ceiling hoists, pulley systems, electrical or hydraulics or any number of options are needed to support your load once you get to the pick up or delivery site – then we have what you are looking for. If we don't – we can make it!
Fabrication Customization
Yes we can build a standard dry van like many others do but it is what we add to this body that requires us to build a tougher box frame than the others – we add working components that need to be mounted and held in place, we add racks and drawers, we add pumps and vacuum systems and doors that open or slide on several sides...if you haven't been able to find what you need, chances are you have not called us before.
Communication
Ensuring clear communication throughout the design and manufacturing process, Marion Body Works has been working with computer-aided design (CAD) and computer-aided manufacturing (CAM) programming for years. When your customers are industry leaders, they demand precision and consistency with the making of every part and component. The coordination of having engineering and manufacturing on the same page throughout the build process by the use of CAD / CAM systems drives speed, flexibility and above all quality.
A Marion all-aluminum body and cab design features the use of aluminum extrusions. They are superior to formed sheet designs in weight to strength ratio. Also, extrusions provide superior dimensional reliability, especially in door fit-up. We specialize in aluminum work and will purchase over a million pounds of aluminum each year. We are also specialists with steel and stainless steel as well as galvaneal.
Custom Aluminum Extrusions
Light Weight Strength and Rugged Durability
3-D Printer Custom Aluminum Extrusions
3-D Printer
Side View of Printed Extrusion
Fabrication Capabilities
Bending and Forming is done by CNC press brakes, and with hundreds
of custom fixtures and jigs
Bystronic Xpert 100 Press
brake programmed offline
with a 10' bed and 100-ton
bending capacity
Accupress 250 Ton Press
brake programmed at the
machine with a 12' bed
and 250-ton bending capacity
Cutting
Computer Numerical Control (CNC) Laser Cutters for accurate/repeatable piece part fabrication with the Bytrans Cross Automation for continuous running

BYTRANS CROSS
Laser Automation
BYSPEED PRO 6' x 10'
CO2 Sheet Metal Laser
Dual-Head
Aluminum Saw

BYSPEED PRO 6' x 10' CO2
Sheet Metal Laser
Milling & Drilling
CNC Milling Machines
Increases capacity & capabilities
4-sided machining with automatic tool changer
Elumatec Profile Machining Centre SBZ 151-CNC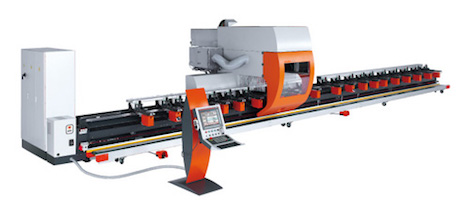 Assembly - Diverse Capabilities