At Marion Body Works, we've been designing and manufacturing our custom-built truck bodies for more than 108 years! From dry vans to platform trucks, curtainsides to specialty trucks, if you can name it, we've probably built it. After over 100 years of manufacturing practically every style of truck you can imagine, we can tell you a thing or two about what it takes to build some of the toughest trucks around. Starting with the factory options you can select to maximize your truck's durability and longevity, we're giving you a few special insights on how to design a truck that can take a beating. Check them out!
Strong Rear Frame
Just like a house needs a rock-solid foundation, commercial truck bodies need a rock-solid rear frame. For example, on any given day, an airfreight company's truck might back into over 20 loading docks – that's a lot of damage to withstand! In order to endure the daily beating your rear frame will take, we perfected our rear frame design. Starting with a high-quality extruded aluminum,our rear frames were designed, tested, and destroyed 17 different times until we had achieved the strongest rear frame in the industry.
Truck Doors…
Of all the truck problems our maintenance team is responsible for fixing, two parts of the truck seem to experience the most wear and tear: the doors and the floors. When companies transport heavy cargo from one destination to the next, improperly loading materials can spell trouble for their doors. If heavy cargo is allowed to shift during transport, your door and its frame are both at risk of being damaged. Whether a door panel gets dented or a roller gets bent, even the slightest amount of damage can cause your door not to close. Marion offers a wide range of flexibility, giving you options of various core materials, coatings, fasteners, and rollers, that all contribute to the door's strength.
…and Truck Floors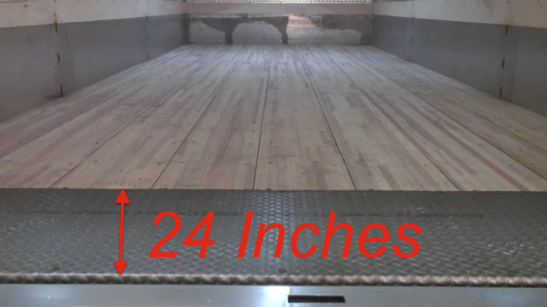 When it comes to the part of the truck that takes the most beating, nothing experiences wear and tear quite like your truck's floors. Just think of all the footsteps, forklifts, and cargo your truck floors have to support every day! Whether your truck is responsible for hauling bricks or bananas, your floors are constantly being used and abused. That's why at Marion we offer several different options that improve your floor's durability. For example, in addition to our heavy-duty, 1 1/8" thick wood floors,our 24" steel tread plate landing surface comes as standard protection on nearly all of our commercial trucks. If that wasn't enough, you can improve the strength of our standard flooring by up to 35% when you upgrade to 1 3/8" thick floors – all for less than $200. When you consider the fact that most floor repairs cost companies upwards of $300, it's an investment well worth it.
To learn more about the durable features we offer, as well as how we can help design a long-lasting truck specifically for your business, contact us today!