Solutions for a Safer, Damage-free Delivery of Large Panes of Glass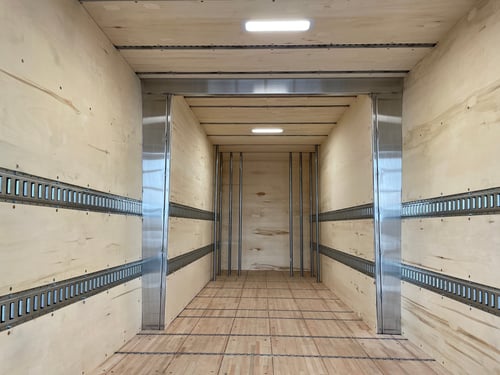 Dearco Glass Paint & Decorating, based in Shawano, WI, operates a fleet of delivery trucks fitted with custom glass carrying bodies. They service Wisconsin and the upper peninsula of Michigan, with drivers often making up to 30 deliveries per day. While traditional glass carrying rigs often feature external, angled glass racks mounted to the truck chassis in an A frame configuration, Dearco wanted to protect the glass from damage in transit. To eliminate costly losses caused by chipping and cracking from debris and de-icing chemicals, they have chosen carriers with side curtain designs to protect the glass. Although side curtains provide considerable protection, the drivers often had to struggle with their tension / buckling systems and an overall reduction in accessibility to the glass panes.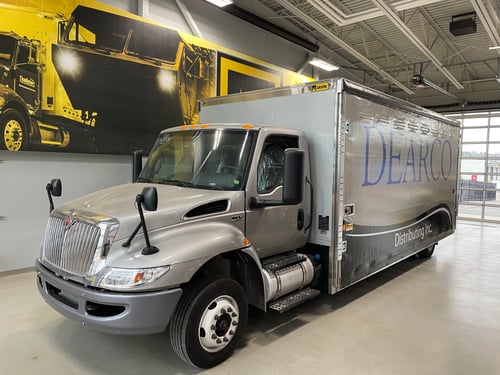 Seeking a more efficient system, Dearco purchased a Class 7 International MV Series chassis with a GVW rating of 26,000 lbs. which keeps the vehicle below the threshold requiring a CDL, and therefore increases the pool of available drivers. It features International's Ride Optimized Suspension system (IROS) which allows drivers to lower the truck body for easier unloading, and raise it for road travel. Dearco then asked their longtime glass body builder, Marion Body Works, to custom design and manufacture the cargo body to meet their new specifications.
Marion Paned-Glass Transport Solution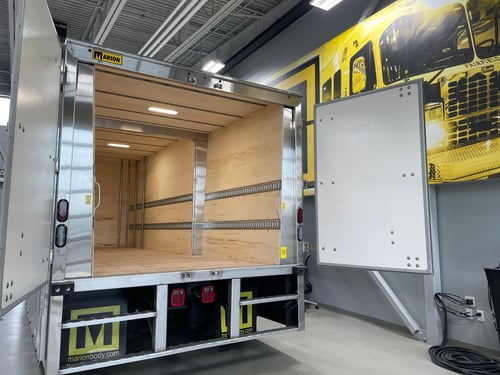 The Cargo box design posed numerous challenges, including the side curtain limitations and necessity to keep the GVW below the CDL threshold. Marion engineers partnered with Kinedyne to incorporate their Kin-Slider curtain side access system into the body design. The Kin-Slider features top and bottom rails with an all-in-one latch-release that eliminated tensioning buckles, and allows the curtain to be opened from the front or rear of the body. The weather-tight vinyl curtains easily slide on the roller tracks and fold accordion style to create full access to the glass panes. They can be operated by one person in under 30 seconds.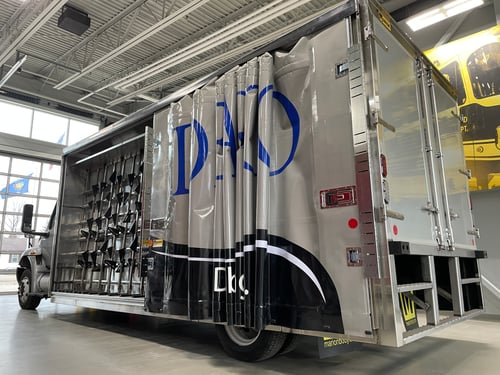 Marion designed and manufactured the box structure to specifically accommodate the Kin-Slider and the International MV Chassis with the IROS system. It features stainless steel hardware on the rear of the body, including the rear step to stand up to the harsh northern Wisconsin environment. Other custom designed Dearco requirements included angled glass racks and load bars which were fabricated in house by Marion. The fully enclosed cargo box is plywood lined and insulated for transporting paints, stains and other products. It has slanted walls for glass stacking and F track mounted in the floor and ceiling with spring loaded mechanisms to hold finished doors and windows securely.
Marion has been building custom commercial truck body solutions to meet the needs of fleets large and small, with uncompromising attention to detail and superior manufacturing techniques for over a century. Our long-term customers have come to know the Marion Body Works name to be synonymous with quality, while our new customers give us a chance to earn their trust with every delivery.