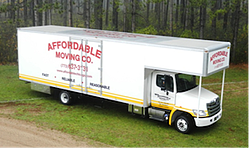 There's more to a moving van than just being a plain box truck that transports things from Point A to Point B. In fact, there are several special features that can be incorporated into a moving van that will aid in your loading/unloading process, protect your customers' precious cargo and make each moving job safer and more efficient.
That being said, because the security and safety of your customers' personal belongings are your first priority, you should be doing everything possible to provide the highest level of service for them. In order to make your job easier, while also helping you provide a highest level of service and generate more potential business, we've highlighted 12 special features we offer at Marion that your moving company should include in its next van:
Safety first! Yellow safety lines are painted on the floor and ceiling to assist in properly lining up a handcart with the walkramp.


Whether you're interested in extra-aggressive stepping surfaces, vented surfaces that allow hazardous debris and snow to fall through, or even additional side-access ramps that create an entrance for storage from the curbside of the van body, Marian offers several different walkramp options.


Liftgates are a useful feature that can aid in the movement of lifting heavy cargo from street level. Options include tuck under platforms that are stored under the body or large platforms that are stored against the rear doors.


In order to provide a smooth surface that ensures items can be slid on the floor with ease and certainty that they won't snag or tear, all of our flooring's screw holes are filled, floorboards sanded, and coated with varnish.


Not only do our partially lined plywood ceilings add structure and protection to your moving van body, they also let in natural light to help view the cargo, even if an interior dome light is covered.


Vertical logistical posts throughout the entire body aid in securing any load size, even in the attic.


Looking to maximize your moving van's storage space? Don't forget to go up! You can expand your van body over the chassis with the addition of an attic compartment. These are available in a variety of sizes, and can make a huge difference. In addition, don't be afraid to use the tallest height available and stack, stack, stack. Load bars can be used to create shelving and protect cargo from being crushed.


As we mentioned previously, natural lighting is made possible because of the partial ceiling lining, but what if it's dark outside? Thankfully, our interior recessed dome lights provide the additional light needed to unload at all hours. If you're afraid of leaving a light on and draining a battery, you can utilize an in-cab light that illuminates when the switch is on, or go one step further and use automatic lights that shut off when there is no movement within the van body. A floodlight added to the rear can also provide additional light during late night moves. Finally, don't forget to save money and use LED whenever possible.


Get access to your cargo wherever you need it. Double side doors provide a wide-open access point to unload large items, and rear side entry doors can be useful to access cargo without having to open the rear or large side doors. You can also use swing doors to provide more accessibility and allow for additional stacking from floor to ceiling, front to back.


Don't miss out on stacking possibilities. Logistic posts can be attached to the interior of the doors so that you can stack and secure items wherever needed. Just because it's a door, doesn't mean it has to be a source of wasted space!


Utilize every inch of your moving body inside and out! Make sure you use graphics and decals to advertise your services. Your truck essentially serves as a moving billboard, so use this valuable space to help lead to your next moving job. Keep your design simple and clear, and always make sure you provide a way for people to contact you. If you look at the truck below for example, it even uses the top of the roof to send out the message!


Need more storage? You can add under-body boxes to store items for the moving process like blankets, boxes, additional walkramps, handcarts, and more. However, you'll need a location for these items when your truck is fully loaded.
These twelve features will help your moving company move forward faster, safer, and more efficiently. Moving can be a stressful time for clients, so make the transition easier for both them and you by incorporating these features into your next Marion Moving Van. We'd love to answer any questions you might have, so call or visit our Commercial Products page for more details and information.