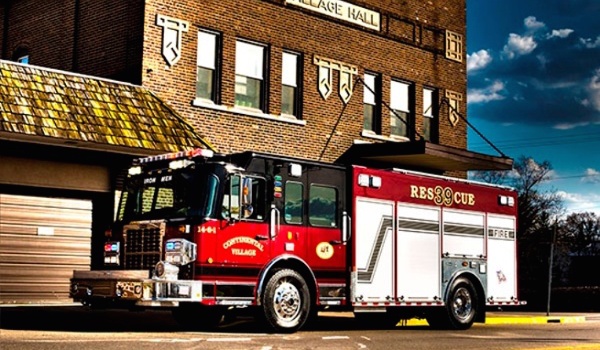 Though walk-in Rescues have long been the preferred style by many fire departments, fire apparatus manufacturers have seen an increase in walk-around Rescue orders over the past several years. As fire departments are being asked to respond to more unique and specific emergencies that require more equipment than just for structural firefighting, they need vehicles that can carry this extra gear, and walk-around Rescues provide significantly more compartment storage space than walk-ins.
A new walk-around Rescue is a great opportunity to firm up your mission plan and have your tools combat-ready. To help you do just that, here are a few tricks, tips, and things to think about when laying out your next walk-around rescue.
1. Transverse Trays
Walk-around Rescue vehicles provide plenty of opportunities for storage space, but that can also lead to challenges gaining access. The use of transverse trays makes access to both sides of the vehicle much easier. Having specific storage items in sections or slide-out lockers is a great way to keep your tools ready to deploy.
2. Pegboard Tool Lockers
Slide out custom pegboard tool lockers can help you layout a specific set of tools. Looking at the image below, for example, all of the stabilization tools are easily found and stored for quicker deployment.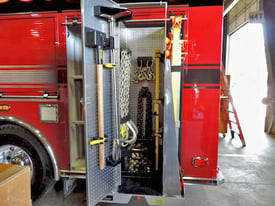 3. Extrication Tool Mounting
Extrication tools can be custom mounted in various configurations using vertical, horizontal, or degree mounts pre-connected for deployment. Often any shelving between the tool and reel are cut back just 1-2" so that hoses don't get pinched in roll-up doors.
4. Rooftop Storage
Rooftop storage is a great way to use the height of your apparatus to its full advantage. That being said, gaining access and deploying this equipment can be difficult. Departments have utilized ladders, notched walkways, and staircases to make better egress, but these can impact storage capacity and create safety concerns. Keeping the most frequently used tools down low is a valuable tip for easier and safer deployment, saving the upper storage to carry any specialized items that are used less frequently.

5. Portable Winches
The use of portable winches and the greater capacity available today have made apparatus more versatile. Portable winches take up a limited amount of storage, yet are capable of operating from any side of the vehicle; all at a fraction of the cost associated with a fixed, bumper-mounted unit.
6. Secure Storage
When storing tools and equipment, double check that they're in-place and secure to avoid them falling into or out of the door. Loose equipment can cause a roll up door to jamb, or may fall on the firefighters upon opening. Tip-down or pull-out trays can be helpful for preventing this, but when stacking equipment on a shelf, such as is commonly done with cribbing, using Velcro nets can help eliminate load shift.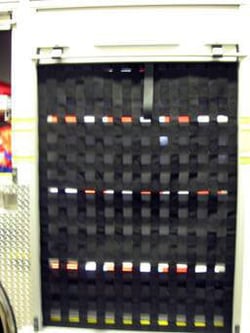 7. Special Racks for Equipment
Special holding racks are typical for any unusual-sized equipment. Air bags, stokes baskets, and long boards a just a few pieces of equipment that commonly require special holding racks to be installed, so that precious floor and shelf space is preserved. Likewise, these are also a great alternative when challenged to use "transverse storage."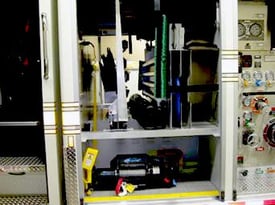 8. Vertical Tool Boards
The use of vertical tool boards is a great way to easily see your common hand tools.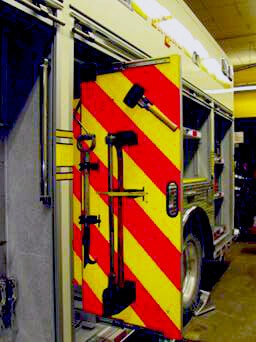 9. Group Your Tools and Isolate Hazards
Whenever possible, make sure you group your tools so that you isolate any hazards, like ones that emit gas fumes. In addition, go one step further by storing that equipment in an isolated, extra-vented compartment to help eliminate the build up of fumes as well as avoid the transfer of fumes to other storage areas.
10. Don't Forget About the Apparatus Electrical System
Making sure your electrical breaker boxes are easily accessible is very important. Most Rescues are well equipped with 120/240-volt components that your operator will need to gain access to, and if your vehicle is equipped with light towers, for example, it's a great idea to keep the controls near the breaker box so they can be deployed with ease. Similarly, don't forget to ask the manufacturer to deploy the tower toward the operator for safety!
Want more advice for designing a walk-around rescue? Talk to your nearest Marion dealer or call us directly at (715) 754-5261. Our engineers will be happy to discuss different specs. Likewise, check out our Recent Deliveries Page to see a gallery of the recent walk-around Rescues we've built.