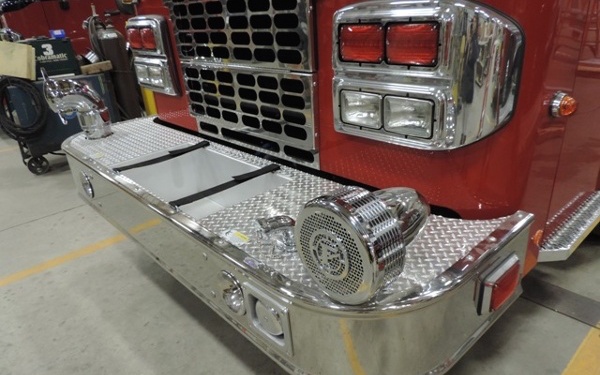 Have you ever thought about why firefighters pay so much attention to cleaning and polishing their trucks? Apart from making sure they look good, have you ever wondered why they have to do so often? In reality, it's about much more than just making the truck look shiny and new.
When it comes to maximizing the service life of your apparatus, keeping the paint and chrome clean and scratch-free is one of most important keys to preventing corrosion and damage. Scratches in your paint help accelerate rust and corrosion, and cleaning the dust and dirt from your truck on a regular basis removes these particles and prevents them from affecting your paint finish.
Likewise, waxing and buffing your truck creates a physical protective barrier between the dirt and your paint to help further protect your apparatus. Not only that, but a clean, well taken care of truck is a main source of department pride, as well as a signal of confidence to the community that you don't take your job for granted. No one wants to work on the old, rusty rig, after all, and people will certainly have less confidence in your department if they see a dirty, rusty truck pulling up to the scene.
In order to make sure your rig looks great, works how it should, and appears like new throughout its entire life, here are 12 paint and chrome maintenance tips for maximizing your apparatus health and appearance:
1. Wash Indoors
Even though it might be tempting to wash your truck outside on a beautiful day, the sun and wind can make soap and water dry on your apparatus before you have a chance to rinse it off—creating unwanted streaks and a dull finish. Washing your truck indoors will help avoid this problem.
2. Use Quality Car Wash Products
Washing and waxing a vehicle that costs hundreds of thousands of dollars with the cheapest products just doesn't make sense. While the cheap products might help you save in the short run; in the long run, they won't protect your truck nearly as well as the premium products. You know what they say: "You get what you pay for."
3. Always Use Soft Wash Brushes and Mitts
If you're cleaning your apparatus to help prevent scratches and wear, the last thing you want to do while cleaning is cause damage yourself. Stiff brushes can cause scratches, and sponges can trap dirt and grit that will also scratch paint, so make sure you stick to soft wash brushes and mitts.
4. Use Two Separate Wash Buckets
Though it's easiest to just dump your wash solution into one bucket and scrub the truck down with it, this makes it easy for dirt and debris to make its way back into your wash solution and make it dirty. Make sure you have a separate rinse bucket to use for your brushes and mitts to keep everything as clean as possible.
5. Use Separate Brushes and Mitts to Clean the Wheels
As the part of the truck that's always in contact with the ground, your wheels are easily the dirtiest place on your apparatus. Because of this, it's important that they have their own brushes and mitts for maintenance to avoid trapping excessive dirt and scratching the paint elsewhere.
6. Rinse with Water After Washing
Once you've scrubbed the vehicle down, make sure you thoroughly rinse away any particles or chemicals that may still be left behind. Don't use the nozzle on the hose, however! Remove the nozzle and let the water sheet freely off the vehicle.
7. Dry the Vehicle with a Synthetic Chamois or Microfiber Drying Towel
Because moisture greatly accelerates corrosion, it's important that you thoroughly dry your truck with a highly absorbent towel for the best results after washing it.
8. Brighten Dull Reflective Striping and Paint
You can use a weak solution of de-limer product and a bucket of water to remove hard water spots and brighten any dull reflective striping or paint. Just scrub your solution where it's needed and rinse it off quickly.
9. Wash Regularly During the Winter
Though you might think the freezing weather would mean washing your truck less in the winter, all the salt on the road can cause serious damage to your paint if you don't wash it regularly.
10. Avoid Using a High-Pressure Power Washer
There's no arguing a power washer's efficiency, but some high-pressure washers cause more damage than they're worth. If you do use a power washer, make sure you maintain a minimum spraying distance of 4 feet or more to avoid damaging the paint and decals.
11. Keep Abrasives Away from Chrome
After spending the extra money to add an awesome chrome finish to your apparatus, the last thing you want to do is scratch it up and ruin it. There is no way to remove scratches from chrome, after all, so you'll either have to live with any mistakes or re-chrome the part. To prevent this from happening, make sure you only use clean, soft rags to clean your chrome, and absolutely no abrasives.
12. Keep Your Eyes Open for Other Issues
One of the best parts about cleaning your apparatus is that it allows you to get up close and really inspect its condition. Spending a few minutes at the end of each shift to make sure your truck is clean and taken care of can help you spot troublesome issues before they happen, and avoid costly downtime and repairs.
As your department's most expensive investments and symbols of your dedication to the community, it's incredibly important that your trucks stay in tip-top shape throughout their lives. This means taking excellent care of their paint and chrome, and regularly cleaning your apparatus.

For more information about how Marion goes the extra mile to prevent corrosion and paint damage, call us today at (715) 754-5261 or fill out our online contact form.