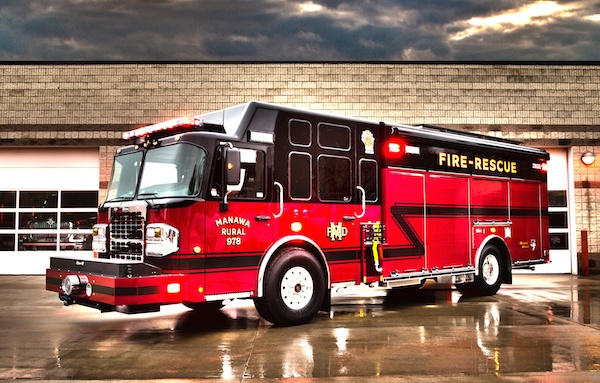 While there are many notable differences between urban and rural fire departments, one of the most significant is the resources required. Take the availability of fire hydrants, for example. When a department is responding in rural environments outside the support area of hydrants, their tactics change drastically without having a reliable water source.
To help rural departments design an apparatus built to meet their specific operational needs, here are a few tips that might come in handy when specifying an apparatus:
1. First Due Tactics
When your first engine arrives on the scene, how long will this engine work before a mobile water supply can be established? Factors such as response distance and available staffing will likely impact the amount of time it takes to establish a water supply, and perhaps require a larger tank. While most rural response apparatus have 1,000-1,500-gallon tanks, a Tender Pumper might be a better consideration for more extreme response conditions.
2. Water Resources
Once you've dropped off water at the scene, how long will it take before a Tender returns? Likewise, what are your Engine's GPM requirements needed to overcome the BTUs?
In order to make sure that you don't run out of water on the scene, you'll need to consider your volume and travel distance/time—as well as the response times and tank sizes of your mutual aid neighbors—to ensure that you can support your Engine. For example, if your Engine is pumping at 600 GPM, you'll only have a few minutes before your Engine runs out of water. While most departments typically choose from 2,000-3,000 gallon Tenders, a 4,000-gallon Tender might be more practical in certain rural response areas, in order to serve the cycle time.
3. Preparation
Knowing what you are likely to encounter in a response territory is a good way to help you prepare the fleet. For example, if your rural response is primarily agricultural, most of your calls might be to old, large, multi-story homes, barns, and silos. With that in mind, this could indicate a more immediate need for a larger Aerial apparatus or a platform to safely reach and deploy personnel onto these structure types.
4. Tools for the Job
While it's always important to ensure every piece of equipment and design feature has a reason for being on your truck, it's even more important in rural environments where distance can hinder your ability to have the right tools available. A mobile fill station for your SCBA can be a major need in rural firefighting, for example, due to the time and distance away from an available compressor. Review the calls your station typically responds too, and make sure you incorporate your apparatus' needs into the vehicle design.
5. Emergency Access
Because rural responses are more likely to pose challenges for your apparatus to reach an emergency due to long driveways, narrow passages, and rough terrain, make sure you take this into consideration when determining the components that impact height, width, or ground clearance. Likewise, a light tower might be a great tool, but if it's standing on top of the cab it could be exposed to potential tree branch damage, whereas a low-profile design could be more acceptable for your territory.
6. Mutual Aid Resources
As most rural firefighting experts will tell you: call for more support than you need right away, as you can always turn back the support later. The biggest challenge in rural firefighting is often time, so it's critical that you get as much help to the scene as fast as possible. Sometimes a call is simply too far away or too big to handle, however, and that's why it's important to get to know the nearby fire departments that can provide assistance when needed. Not only can this impact your response strategy and planning, but also your apparatus purchasing. Engine capacity, Aerials, Tenders, and other special equipment/rescue vehicles are just a few examples of the types of equipment what can help provide mutual aid.
Need help designing a rural apparatus that has everything your community needs? Our experienced engineers will work closely with your APC to design the ideal rig—and without busting your budget. Call us directly at 715-754-5261 or use our Online Dealer Finder to get information about the dealer nearest to you.