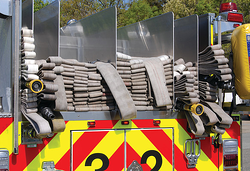 Have you ever looked at the height of the hosebed on your pumper and wondered, "Why does this have to be so tall?" If so, you're not alone. However, with more and more customers calling for full-depth, full-height storage compartments without sacrificing tank size, sometimes the only direction to go is up. In order to make these tall hosebeds both safer and more accessible for your department, Marion has come up with an interesting solution.
Specifying Your Hosebed's Dimensions
Before you even determine the height of your hosebed or size of your tank, however, it's important to specify your hosebed's dimensions for proper hose storage. To help the apparatus manufacturer design a hosebed that can actually accommodate your entire hose without any problems (note the intrusive generator and fill tower below), try to be as specific as possible when specifying the bed.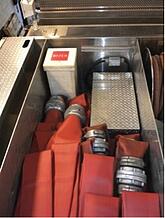 For example, rather than asking for a hosebed that can accommodate 1,250 feet of 4-inch LDH, ask for a hosebed that accommodate 1,250 feet of 4-inch LDH packed in a flat bed, 4 tiers wide. Better yet, you can even include the hose brand name and model type for ultra-specific specifications. Remember, hosebed height won't mean a thing if your hose doesn't fit there in the first place, so help us help you by being as precise as possible.
Determining Best Fit on Your Apparatus
Once we've figured out the exact dimensions of your hosebed, we have to figure out its best fit on your apparatus – this is where things get creative. Looking at a traditional side mount pumper, the hosebed is typically centered over the water tank (see below).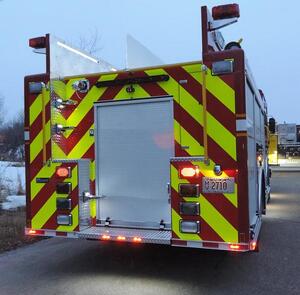 However, by offsetting the hosebed to one side and widening it across the full-width of your apparatus (as shown below), we're able to create a walking platform next to the hosebed. Though this area would normally serve as a holding place for a suction hose or the occasional pike pole, using it as a walkway gives your firefighters improved accessibilty to your hosebed. We even add an ergonomic angled ladder in front of the walkway to ensure your firefighters will have a much safer and easier time accessing the walkway to pack and repack the hose.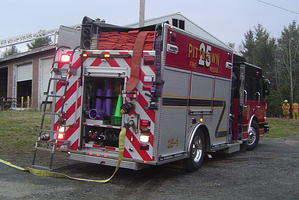 Rather than dealing with a high, full-width hosebed that's a challenge to access, or struggling with a low hosebed design that can often lead to functionality sacrifices – Marion's solution is much more efficient. By swapping the standard, centered hosebed for one that's offset to one side, we're able to combat the typical height challenges firefighters face when dealing with hosebeds that are too tall, and provide you with safe and easy access to your equipment.
For more information about what sets a Marion apparatus apart the rest, download our free tip sheet below.