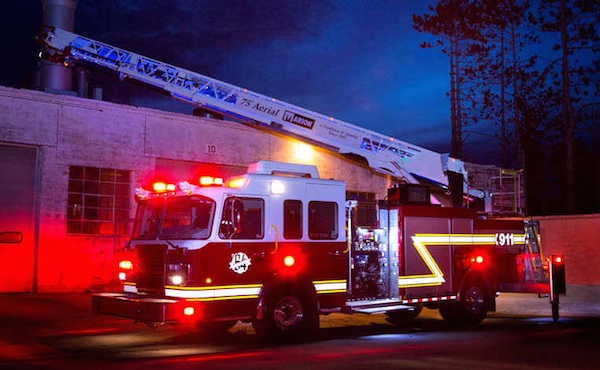 Before most departments even start talking with an apparatus manufacturer or budgeting their new truck, there are often several features and specifications that are considered "must-haves" for the new rig. Rural departments interested in buying a new Tanker, for example, might know that a 3,500-gallon tank is the minimum required size to meet their operating needs for their area.
That being said, when it comes to the different lighting options for today's apparatus, many departments are happy to just settle for whatever meets the NFPA 1901 minimum without exploring other options. This is because it can be difficult to understand all the capacities and options available, as well as understanding the NFPA standard.
NFPA 1901 requires compliance in two operating modes: Calling Right of Way (responding) and Blocking Right of Way (on-scene). Though they might not seem that different from one another, both have their own minimum requirements to meet. To start, apparatus are broken down into zones (A-D or Front, Sides, and Back), where lights must meet a minimum light output (measured in candelas) for each. The type of apparatus isn't relative to these requirements, but apparatus that are 25 feet or longer have a different set of requirements than those that are less than 25 feet (e.g., SUVs, 1-ton vehicles, etc.).
To help ensure that you choose the best possible setup for your truck, it's important that you educate yourself about the different apparatus lighting options available. Below, we've broken down the different apparatus lighting types and explain where and how each is used on your apparatus.
Apparatus Lighting Types
Warning Lights
Warning lights are placed around the apparatus to light up the zones and are typically used in conjunction with a light bar, which provides the highest requirement of light (Zone A upper). When you select colors and lights, be aware of these considerations:
LED lighting has become cost-effective and the industry standard. LED lights generate color so lenses don't need to be colored, which many times can diminish the light output. If you're leaning towards LED lights, consider using clear lenses on ALL lights.
LED lighting has different light output based on color than halogen. In the past, amber would supplement red in the upper rear zone. However, with LED, this is no longer required. Special colors such as blue or green may require additional lighting whereas, in the past, halogen and strobe did not.
When choosing colors and zones, remember that amber isn't compliant in Zone A when Calling For Right of Way (responding), nor is white permitted in Zone C. And while white can be used on sides, A, B, and D for responding, it isn't permitted in any zone when Blocking Right of Way (on scene).
The definition of zone and light outputs are easily found on most of the common lighting manufacturing websites. If you have the NFPA 1901 2016 Standard handy, the tables under 13.8 (pages 39-40) define the candela requirements.
Ground Lights
Ground lights refer to the lights that assist with climbing onto the apparatus, and are typically within 3' of the ground. Consider these points when selecting them for your truck:
Lighting designed to illuminate under the driver and crew may have switches, but must be automatic when the doors are open.
Lighting in your pumper hosebed must meet at a level of 3 fc (foot-candles), so the traditional spotlight next to the beacon is only functional if the entire bed can be lit. As a result, many customers are opting to move lights toward the front of the bed.
2 fc is the standard for step surfaces and interior seating.
Compartments designed around equipment that can be removed without article illumination (e.g., ladders, pikes, etc.) aren't required to have lights. If you want these areas to have lighting, you'll have to add this to your specification.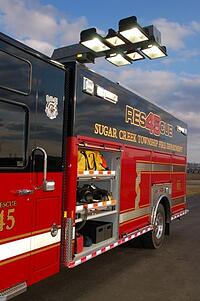 Scene Lighting
A subcategory of perimeter lighting, scene lighting refers to the white lights used to illuminate the area around an apparatus so firefighters can see better on-scene, and motorists can more easily see firefighters. Scene lighting options come in a variety of different shapes and sizes, as well as different styles.
Your light bar, for example, can be set to all-white to provide effective scene lighting, or you may prefer a light tower. Scene lighting doesn't fall under NFPA 1901, however, so any scene lighting decisions will be entirely up to you and your department. Selection criteria include:
12-Volt LED lighting has proven very effective and can at times replace the need for 120-Volt lighting—if not a generator altogether. Even though they're LED, be mindful that these 12-Volt lights have a significant amp draw, so make sure the load is managed and can perform with the alternator selected.
120-Volt LED lighting is now available, but remains an expensive alternative, unlike 12-Volt LED. There are arguments for and against it, so make sure you ask questions before you select your 120-Volt lighting.
120-Volt lighting requires a generator, which may or may not be practical when in motion. Typically, these lights will operate with hydraulic generators, so long as the RPM is low enough to allow the generator to engage. A combination of lighting, such as a 12-Volt front brow for incoming and 120-Volt side scene lights, can be a popular mix for your mission.
For more information about the different lighting options available on our apparatus, contact your local Marion Body Works dealer or call us directly at (715) 754-5261.