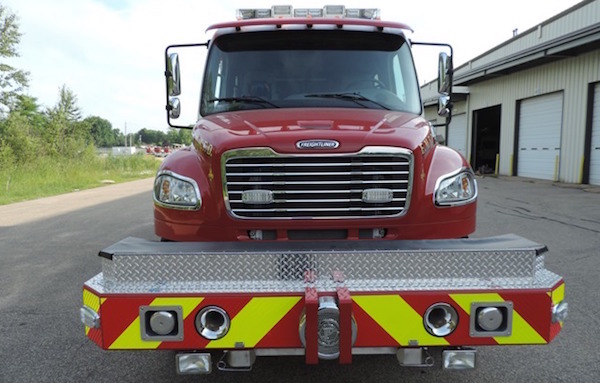 With today's fire departments looking for more storage space on their apparatus, front bumper extensions are becoming common on all apparatus types. Whether it's a Rescue, a Pumper, a Rescue Pumper, or even an Aerial, front bumpers can be mounted on just about any apparatus these days, and they do much more than simply provide a place for your siren.
Given the increased need for more storage space in today's fire culture, extensions have gotten bigger and more functional—with many front bumper extensions being 24-28 inches. In addition to housing the siren and air horns, as well as front suction inlets, front bumper extensions today often come with hose wells, crosslays, and/or specialized storage compartments—perfect for booster reels, extrication tools, cord reels, and anything else your department can fit in there. There are many different ways to design a front bumper, and to help you find the perfect design that increases the usefulness of your apparatus, here are 8 front bumper options and ideas for you to consider:
1. Does Your Operating Environment Allow for a Bumper Extension?
Though it might not seem like a big deal to add a bumper extension to your apparatus, adding an extra two feet to the front of your rig can certainly create some maneuverability challenges. If your response area has tight turns or steep departure angles, a front bumper extension might not be feasible. Likewise, you also need to consider the overall length of the apparatus bay at your department. There's no point in adding an extension if your truck won't fit in the station.
2. Be Mindful of Cab and Engine Maintenance
In addition to making driving more difficult, front bumper extensions also have the potential to make cab and engine maintenance more difficult if they prevent the cab from tilting all the way forward during maintenance. Whenever you design your front bumper, make sure you keep this in mind from the start, and specify a cab tilt limit switch to avoid damage to a front-bumper-mounted feature.
3. Discharge Outlets and Suction Inlets
A popular feature for many of today's bumpers is having them equipped with suctions and discharges that enable firefighters to work in front of the cab, as opposed to just the sides. Not only does this allow you to work in a safe area away from traffic, but it also provides an extra angle of attack that can be helpful in certain situations. Hose from the front can range anywhere from 50 to 200 feet, and a swivel adapter can be used to provide 180-degree rotation of the suction inlet.
4. Hose Crosslay or Hose Well?
If you decide to install discharge outlets and suction inlets on your front bumper, the next things you need to figure out are the hose size, hose length, and how you'll store/deploy it. Crosslays for long lengths greater than 100 feet are typically built into the extension and occupy most of the surface, otherwise hose wells can be used for trashline or small length attack lines to offer additional front extension components.
5. Which Tools Are Best Suited for Storage in the Front Bumper?
If you're looking to offer more than fire attack on your bumper, you'll have plenty of storage room for a number of different tools and equipment. In the picture below, for example, you can see just how much room a front bumper can provide.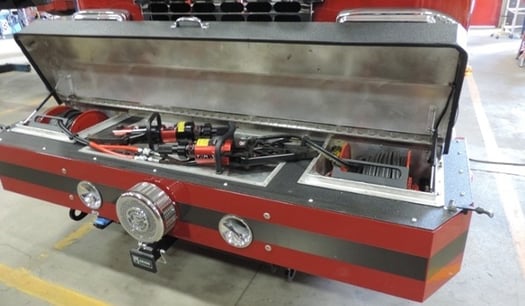 While you can fit just about any tool in your bumper these days, it's important that you have a plan for the tools that you do keep in there. In this example, the extension is primarily designed for vehicle extrication. Below the tools are controls to engage the hydraulic pressure, allowing full operation from the front of the incident. Every tool on your rig should have a reason why it's in the spot it's in, and this goes for your front bumper too.
6. Electrical and Hydraulic Cords
If you end up using the front bumper for tool storage, another key thing to keep in mind is your tool's power source. Whether you have electric or hydraulic tools (or even both), make sure you have the proper power cables and cords hooked up so you can run them all.
7. Winches
Though a winch might not be the most popular feature to include on a bumper, it can be extremely useful in certain rescue situations. A permanent center mount winch can easily be installed in a bumper extension or you can specify a simple hitch connection to allow portable winches to offer 360-degree capability.
8. Know Your Mission and Tools
Be prepared by having makes and models for any tools you want to mount and be ready to provide them during project construction to maximize the efficiency of the front bumper. It's important to work out the details of the mission and tools to be stored and recognize the limitations that can impact length, depth, and structural integrity of the bumper extension.

Want to learn more about the different front bumper features and tools Marion can provide for your apparatus? Check out our Recent Deliveries page to get a firsthand look at the bumpers we've built in the past, or call us directly at (715) 754-5261 to learn about all the different features and designs we can include on yours.