Your Department has decided to go custom for their next truck. What next?
You've had all the meetings, worked out the budget and financing options and finally gotten the go-ahead to start specing out a new piece of custom apparatus. Now what? You may feel overwhelmed by the sheer number of manufacturers and reps willing (clamoring) to bid on your truck. We understand. We've put together a few simple guidelines to help you through the process of initial specification through RFQ.
First of all, understand the mission of the apparatus. This is a purchase that could be in your station for over 20 years and nobody wants their name pinned to failure. It sounds pretty obvious, but if you don't have a clear vision for the truck, you can end up with a spec that leaves too much leeway to the competing manufacturers, forcing you to reconcile bids and go back to the drawing board. This can lead to some unfortunate delays and cost over-runs. Marion has built a number of very unique customs in our 112 year history, it is our specialty. Our Sales Reps will work with you to clearly define what you need up front so we can engineer a solution for your needs.
Next, be clear about your budget. You can only spend what you have been allotted. It is a simple fact of life, but that doesn't mean you have to compromise quality for capability. Consider the fact that bigger is not always better, and you might be able to do more with less. Why pay for a 450 horsepower engine if you can accomplish the same goal with 375hp and advantageous gearing? Also think long-term about maintenance and warranty coverage. Marion reps have the experience to recommend successful solutions for overcoming most budgetary limitations, and Marion trucks have one of the most comprehensive warranties in the industry.
Most importantly, know your manufacturer. Ask if they've built a truck similar to your concept for a nearby department, and then ask if you can go see it. Ask if you can take it out for a test drive, you wouldn't buy a car without driving it first, after all. Talk to their Chief about the design and build process, find out about maintenance and service needs. You can learn a lot about a manufacturer by reading through the service record for their trucks. If your rep is unwilling or unable to show you a comparable truck, you might want to look into a different brand.
Ultimately, you are going to spend a great deal of time, money and effort to take a truck from concept through delivery. It is a decision that can take up to 2 years to see through to fruition, and last for decades. You're going to have to partner with a company who values your reputation as much as they do their own. We invite you to look at Marion, and join our 112 year tradition of quality.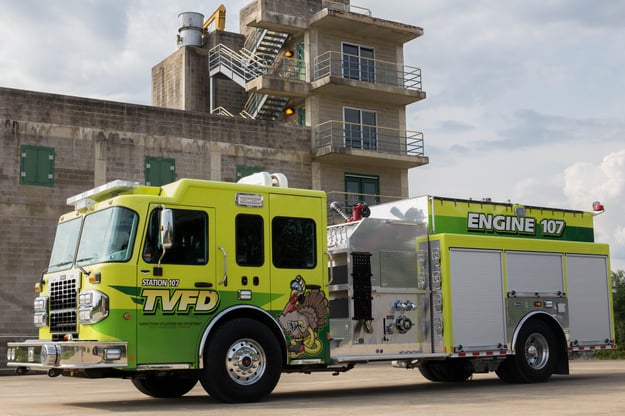 ---
Media
See why Marion is Different.
Load our custom trucks with features you need. Let us fabricate your dream pumper, tanker, rescue or Aerial from start to finish based on a deep understanding of your needs. With Sharp attention to detail and quality construction, our safe, high-performance trucks are built to last.
---
RECENT NEWS:
Thanks for checking out our blog! Get the latest updates and news on our Facebook page.
---