Specifying to Engineering
Once you've sent your specs and design parameters off to your chosen vendors, you can sit back and wait to review their final numbers, right? Probably not. In actuality, the specifying process has only just begun. You see, there are a great many options to consider and pathways to take to get to a finalized estimate. Again, it all comes down to budget limitations versus the capabilities you need and those you would like to have. This doesn't mean you have to simply take what a manufacturer will give you for your dollar. You should have the opportunity for many reviews with your builders to achieve an optimum balance of cost to capability and also for future needs and adaptations.
"At Marion, we pride ourselves in being able to pre-plan for future upgrades," said Rob Rosenau, Technical Sales & Contact Administrator. "An excellent example is a light tower, which is a very expensive option. To help you meet your budget, Marion can design the truck with all the necessary wiring and support elements in place at the time of delivery. When future funds become available to purchase the tower, we are able install the it quickly, with the shortest time out of service and smallest possible cost." Because everything changes in the Fire Service, it is essential that your manufacturer plans ahead for new equipment that has to be stored on the rig. If your manufacturer is lining out items in your spec without offering ways to easily add them later, or only giving you enough room for today's tools, you may be getting pushed into a cookie cutter design that fits their needs more than yours.
It is also important to know who you'll be working with you on your project. Marion initially assigns a Technical Sales & Contact Administrator like Rob, who will be involved in every aspect of with your truck from design through building to service in the field. Yes, the guy who worked on your specs will be the guy you work with for upgrades down the road. Who else can say that? He will work with your local Dealer and two internal specialists on your primary estimate. This team will grow to up to 15 highly qualified engineers, electricians and plumbers who will review every weld, fitting and connection that has to be made. As the process continues, the team will expand to move the truck through manufacturing, paint and delivery. The constant through it all will be your TSCA. At Marion, we want you to be involved in every step of your truck's process, and we believe the best way to do that is to give you one very skilled person to talk to, someone like Rob.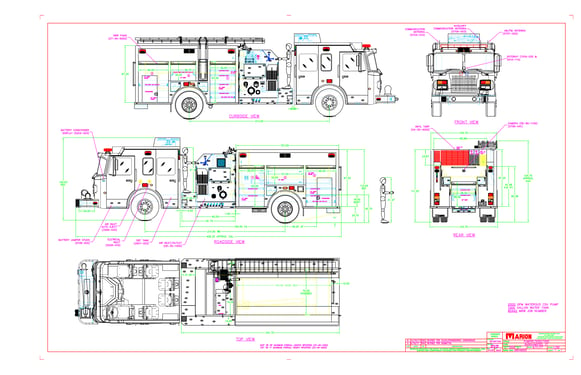 ---
Media
See why Marion is Different.
Load our custom trucks with features you need. Let us fabricate your dream pumper, tanker, rescue or Aerial from start to finish based on a deep understanding of your needs. With Sharp attention to detail and quality construction, our safe, high-performance trucks are built to last.
---
RECENT NEWS: Marion Body Works Expands Dealer Network.
Marion Body Works continues to grow its sales network by recently adding three new dealerships. These dealers will cover territories in California, North Carolina, and New York. Marion started manufacturing all-aluminum fire and emergency apparatuses in 1964. Since then, Marion has become a leader in the industry building trucks for departments throughout the United States, as well as overseas.
"Our dealers are a big part of our success, and we are excited to announce Marion has new representation to reach more departments". – Curtis Ignacio, President of Marion Body Works.
New Dealerships:
Western Body Works
California
Westernbodyworks.com
Anchor-Richey EVS
North Carolina
Anchor-richeyevs.com
Har-Rob Fire Apparatus
New York (Mid-State)
Harrob.com
Thanks for checking out our blog! Get the latest updates and news on our Facebook page.
---