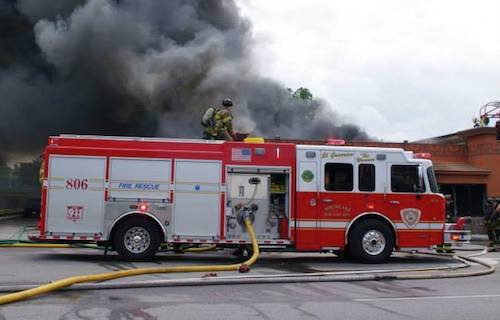 When it comes time to purchase a new apparatus for your fire department, it's easy to get overwhelmed by all of the different options. There's a lot you need to consider when figuring out which apparatus will be the most effective and efficient, and even the most experienced committees still struggle to decide on the best specs and features.
As the number of non-fire-related responses continues to rise, however, fire departments across the country are starting to downsize their fleets in an attempt to stay under budget. This has changed the way departments approach buying a new apparatus.
Over the past few years, we've seen a noticeable increase in the amount of Rescue Pumpers requested by departments. With today's firefighters doing more than just responding to fires, more departments are showing interest in rigs that are multifunctional, as opposed to trucks that specialize in one task.
Sound familiar? If your department has been thinking about purchasing a multifunctional apparatus to help kill two birds with one stone, see why a Rescue Pumper is the perfect way to go:
1. Downsize the Fleet Without Compromising the Mission
With more and more fire departments looking at their budgets and realizing that they need to downsize, Rescue Pumpers allow you to do so without compromising your department's ability to respond. By combining two vehicles into one design with multiple uses, you'll be able to do everything that you could before, while also reducing maintenance costs and freeing up space in the station.
2. Reduce the Amount of Required Personnel
When you think about how many crewmembers it takes to operate two trucks, combining everything into one can make your job much easier. The amount of personnel available for most volunteer and paid on-call services continues to be a growing concern, and getting more done with less staff has almost become the norm. By using a more versatile apparatus like a Rescue Pumper, you can get more members into position to help support the suppression and rescue efforts, without having staff tied up operating multiple apparatus.
3. Carry More Items
Though you might think a Rescue Pumper would have less room for storage after combining two vehicles into one, there's actually more emphasis put on storage to accommodate all of your rescue tools. Engineers have spent hundreds of hours researching size reduction design, which allows us to provide more space for the items you need to carry, without sacrificing the apparatus' ability to perform.
4. Response Distance Growing
With an increase in mutual aid agreements, many departments are being asked to service larger response areas, so it's no surprise crews are also looking for a truck that can carry more. Due to the extra travel distance, it's imperative for your equipment to be readily accessible, and a Rescue Pumper makes it easier to respond to any type of call. Not only are they better equipped, but you can also do more with fewer personnel. In addition, a Rescue Pumper can compliment a department's fleet, as it carries essential equipment for a range of calls, which enables other apparatus to remain ready in the station to support immediate local response.
5. Fire Calls Are On the Decline
According to the National Fire Protection Association, of the 31.6 million calls responded to by fire departments in 2013, only 3.9% (1.24 million) were reported as fire incidents. With the majority of calls (nearly 68%) being for medical aid responses, having a vehicle better equipped to handle these growing concerns will be crucial to your effectiveness. With a Rescue Pumper, you'll have more compartment space for specialized medical and rescue equipment, while also having plenty of room for fire equipment in the event you'd have to respond to a fire call.
For more information about our versatile Rescue Pumper options, please talk to your nearest Marion dealer, or contact us personally at (715) 754-5261.