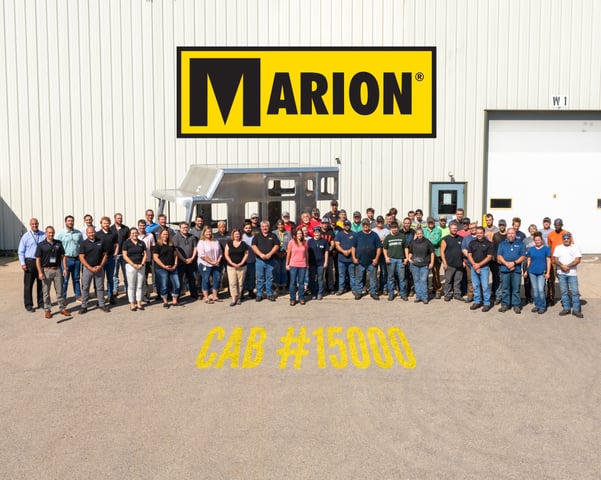 Marion, Wis - Marion Body Works has reached yet another milestone in the custom cab industry. They recently celebrated the completion of their 15,000th cab made for Spartan motors.
"We've been building custom cabs for Spartan Motors since 1995." said Cal Kanowitz, Director of Sales & Marketing at MBW. "Our employees take a ton of pride in what we do and in our relationships. They've been coming to work everyday building Spartan cabs, they know who Spartan is, they know that these trucks get put out as full fire trucks and so it really brings a lot of meaning to their job and their quality of craftsmanship."
Marion has been building cabs for manufacturers like Spartan for nearly three decades, making this milestone certainly one to mark—but it's the next milestone of many. In 2014, Marion Body Works delivered its 10,000th cab to the very same customer, Spartan. This storied collaboration between a local, family-owned manufacturer and a publicly traded power player is the kind of strong alliance Marion Body Works aims to foster with customers in various industries. These resilient relationships make it possible for the company to continue to give back to the community and create jobs for talented individuals in Northeastern Wisconsin.
Over the last 100+ years, Marion Body Works has been dedicated to developing honest, high-quality solutions that are tested and trusted by companies of every size, locally and nationally. Marion's team is honored to continue this tradition of excellence with the delivery of its 15,000th cab and looks forward to a bright future with many more successful projects and partnerships ahead. Marion Body Works looks forward to the continuation of their relationship with Spartan. "This would not be possible without our employees, both past and present," said Kevin Ignacio, President of Marion Body Works, "We appreciate the part that everyone has had in reaching this milestone."
For additional information about Marion Body Works, including an overview of the company's long history, visit https://www.marionbody.com/ or https://www.marionbody.com/about.