Thirty-one local area children in need will have a very Merry Christmas with the help of Marion Body Works' annual Christmas for Kids fundraiser. Gift recipients are residents of the Marion, Tigerton, Clintonville, and Shawano communities.
Marion Body Works' goal is not only to be the area's employer of choice, but also to look for ways that directly impact and help those living in our communities. The Christmas for Kids fundraiser provides employees at the company an opportunity to support local needs in two different ways.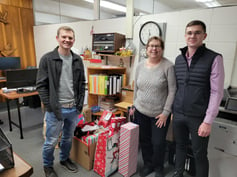 Annually, in December, Marion holds a raffle amongst the employees. Two winners receive an extra vacation day to use in the following year. Many employees participated in the raffle, not only for a chance to win, but also have their dollars make an impact. $2965 worth of raffle tickets were purchased by employees. Marion Body Works matched the $2965 for a donation total of $5,930. The proceeds of the raffle are used to purchase gifts for Christmas for Kids, and remaining dollars are donated to local food pantries.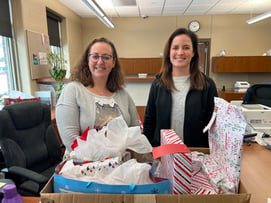 Along with the raffle, giving trees were placed around the Marion and Shawano facilities. Employees can select cards off the giving trees that include the interests, age, and sizes of a particular child that is in need of support this holiday season. Once gifts for that child are purchased, Marion Body Works Caring Committee members wrap and distribute gifts to the area schools. Between the purchased gifts, and the proceeds from the vacation raffle, the company was able to provide Christmas gifts for 31 children.
The Christmas for Kids fundraiser is a long-standing tradition in Marion Body Works' history. However, the addition of the Shawano community is new to the 117-year-old company. In October of 2022, Marion Body Works opened an additional manufacturing facility in Shawano, WI. The added production space has not only brought jobs to the area, but has brought support for the growing Shawano County.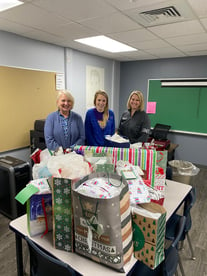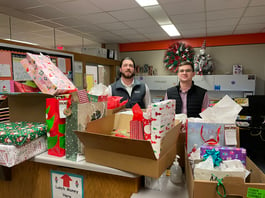 "It is a unique opportunity to expand our legacy of community support to a different area of Wisconsin," said MacKenzie Stewart, Marion Body Works Caring Committee Chairperson. "We look forward to finding ways we can positively impact Shawano while continuing to expand our contributions in the Marion, Tigerton, and Clintonville area."
Marion Body Works is proud to support their local communities year-round, as well as have this special fundraiser to spread some holiday cheer this Christmas season.
For additional information about Marion Body Works, including a list of current job openings, click here.