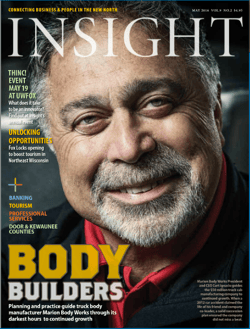 Did you happen to catch our president, Curt Ignacio, on the cover of this month's Insight magazine? We're pretty proud to be featured not just on the cover, but in an article that highlights our history, our growth, and unwavering commitment to our people and community.
No story about our company's success would be complete without acknowledging the work and legacy of Bud Simpson and Jim Simpson, and Curt talks to the reporter with a mix of gratitude and sadness. He describes that defining moment in our history that the article terms an "existential crossroads," when then co-president Jim Simpson was killed in a traffic accident. The ensuing years – and the work related to keeping the company running smoothly – were tough, but would have been far tougher had we not had a smart succession plan in place. The plan has helped ensure the ongoing vitality of our company and gave Curt and our employees a renewed sense of commitment to our success.
WATCH THE COVER STORY VIDEO
The article also highlights our impressive growth, with sales that today exceed $50 million and employment of nearly 250 people in and around the community. It's a story of expansion — expanding markets, product lines and our own footprint.
Marion began in 1905, building cattle racks and milk wagons for farmers; today we design, engineer and build fire & rescue equipment, custom cabs, custom engineered vehicles, commercial truck bodies and defense bodies and tactical vehicle components. And soon we'll be proudly cutting the ribbon on our new 19,000-square-foot state-of-the-art headquarters, complete with corporate offices, a customer showroom, and engineering and design space. Earlier this year we completed a 42,000-square-foot expansion of our production and warehouse building. This facility expansion is a bricks-and-mortar testament to the hard work of our entire team, as well as those who, like Bud and Jim Simpson, put the right pieces in place for what's today a very successful company.
If you haven't already, you can read the article, "Body Builders: Planning & Practice Guide Truck Manufacturer Through Its Darkest Hours To Continued Growth" by clicking here!