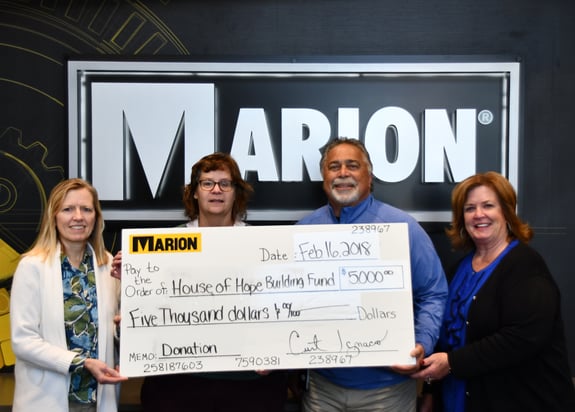 Marion was very proud to recently donate $5000 to the House of Hope Building Fund. This wonderful organization provides support in a variety of ways to the citizens of the Marion area.
The House of HOPE has five Christian ministries that are supported through donations. These areas are: The Resale Shop (Clothes Closet), subsidizing HOPE Counseling, The Marion Food Pantry, BackPack Program and Two Transitional Apartments. The goal of this building fund is to bring all five of these ministries under one roof. The House of Hope has a major impact on the community and Marion is proud to be a continued supporter of this non-profit.
The fundraising project is almost complete but donations are still needed to make this happen. Any further donations may be directed to House of HOPE.
The House of HOPE is a 501 c (3), non-profit Corporation; therefore, your donation can be used as a tax deduction.
(Pictured above: Lynne Simpson - Co-Owner of Marion, Jacqueline Suehring - Chair-House of HOPE, Curt Ignacio - President of Marion, and Nancy Ignacio - Co-Owner of Marion.
About Marion Body Works
Marion Body Works manufactures Fire & Emergency Apparatus, Commercial Truck Bodies, Aluminum Custom Cabs, Custom Engineered Vehicles, and Defense Products for customers across the country. Marion has been privately owned, family operated, and continuously operated in Marion since they were founded in 1905. Marion specializes in all aluminum products, with more experience in this area than any other U.S. manufacturer. The company's capabilities include aluminum and steel fabrication, welding, plumbing, foam insulation, hydraulics, electrical and electronic controls, and painting.