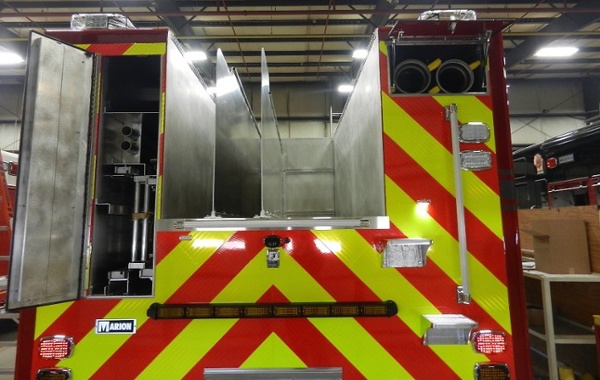 The last time we talked about hosebeds, we explained how we design our apparatus to overcome the problems associated with high hosebeds. To make things easier for firefighters, we use ergonomic ladders, built-in steps, walkways, and other features to make high hosebeds safer and more accessible.
That being said, many fire departments still desire low hosebeds like some of the smaller fleet apparatus they may have had in the past. However, while there are certainly benefits of using a low hosebed, the decision to spec one comes with certain tradeoffs and design considerations.
Take this excerpt from our previous blog, for example:
Before you even determine the height of your hosebed or size of your tank, it's important to specify your hosebed's dimensions for proper hose storage. To help the apparatus manufacturer design a hosebed that can actually accommodate your entire hose without any problems (note the intrusive generator and fill tower below), try to be as specific as possible when specifying the bed. For example, rather than asking for a hosebed that can accommodate 1,250 feet of 4-inch LDH, ask for a hosebed that accommodate 1,250 feet of 4-inch LDH packed in a flat bed, 4 tiers wide. Better yet, you can even include the hose brand name and model type for ultra-specific specifications.
Remember, hosebed height won't mean a thing if your hose doesn't fit there in the first place, so help us help you by being as precise as possible.
To help ensure you make the best decisions possible when spec'ing a low hosebed apparatus, here are some of the benefits, drawbacks, and considerations to keep in mind when planning your design:
Benefits of a Low Hosebed
Firefighters can grab an attack line from a standing position rather than climbing up on a step or up onto the back of the rig
Less chance of injury while wearing PPD and SCBA
In addition to making it easier to get access to the hose, low hosebeds allow you to efficiently advance the attack line from the hosebed height that you specify—but don't ignore training and practice deploying these lines. Just because you have a low hosebed, doesn't mean you're good at deploying lines and getting water on the fire faster.
Tradeoffs & Considerations for a Low Hosebed
While there are several great reasons to use a low hosebed truck, remember that the size of the vehicle, type of vehicle, and water tank all come into play with the design.
1. Modifying the Tank Size and Redistributing the Water Weight
Those who have the luxury of having hydrants every 500' – 1,000' in their response area can conceivably design a rig with very low hosebeds, understanding that the trade-off could result in using a smaller booster tank. This would likely work for them. Those who have few-to-no hydrants, however, cannot afford to trade tank size for hosebed height.
Likewise, tank size and placement need to be considered when calculating how much room you want in your compartments, where the weight is going to rest, and how that weight will affect the drivability of the unit. Talk to the manufacturer about which tank design is best, as you may need an "L" shape or "T" shape to accomplish this.
2. Re-Packing
Re-packing the lines can be a challenge depending on how tall the dividers are and the agility of those packing the hose. You may need to come up with a way to use a tool of some sort to tightly pack the hose or just use long-armed people to put the line back.
3. Compartments/Equipment You Carry
A lower hosebed pretty much eliminates the possibility of a large rear compartment, and other compartments will be shorter as well. How you store the ladders—lying flat or on their sides—will also affect hosebed height and compartment room.
It's also important that you don't forget about the hosebed height and the amount of hose you'll carry, because if you aren't careful, sometimes they can be filled so that the top layer is almost as high as a traditional hosebed.
4. Hosebed Configurations and Dividers
The hosebed configuration depends on several factors. The first consideration is the size and configuration of the water tank. A horizontal or "T" tank, for example, will result in a higher hosebed floor. On the other hand, a vertical tank at the front of the body will allow for a lower hosebed that's not quite as long.
If you specify a very low hosebed, you also need to be cautious when installing a number of hosebed dividers. In the wide area, such as for large-diameter hose (LDH), a firefighter can get in the bed to assist with the loading. When you have full-height narrow dividers, however, it is much more difficult to load hose to the bottom.
While low hosebed rigs can be very useful in certain environments, don't rush into a low hosebed design if it doesn't suit your department's tactical goals. Keep these considerations in mind when considering a low hosebed apparatus, and please contact us if you have any questions about low hosebed specifications.